When you decided to start your business, you probably didn't concentrate on the administrative side of things. But now, whether you've been in business for years or just recently launched, you realize the necessity of keeping things straight, especially when it comes to financial information.
Bookkeeping is the fastest and easiest way to make sense of what's happening to your money—and many of us end up taking on the role or assigning it to others without knowing exactly all it entails. So, what does a bookkeeper do for a small business? Here is a general overview of what a bookkeeper should do for you.
Seven Top Bookkeeping Services for Small Business es
According to Merriam-Webster, the definition of a bookkeeper is: The person who records the accounts or transactions of a business. That sounds simple enough. But, a bookkeeper actually has at least seven key responsibilities to handle. A bookkeeper can:
1. Record and categorize financial transactions.
This starts the ball rolling and needs to be done accurately to ensure a sound platform for the rest of your financial information.
Transactions are entered into a general ledger as debits or credits.
Set up and manage accounting software such as Quickbooks.
2. Reconcile bank accounts and manage bank feeds.
Match transaction details in your accounting software to details on your bank account, credit card, and other financial statements. Check for accuracy and fraudulent charges.
See each transaction in real time when bank feeds are joined to your accounting software.
3. Handle accounts receivable (AR) and accounts payable (AP) along with bills and invoices.
Depending on the size and complexity of your business, this in itself can be a full-time job, with generating invoices, keeping track of due dates, processing payments, and more.
4. Handle payroll and taxes.
Keeping staff paid and making the correct tax deductions to their paychecks are often a bookkeeper's responsibility.
5. Prepare financial statements.
Your business needs major statements prepared: balance sheets, cash flow, and profit and loss (P&L) statements.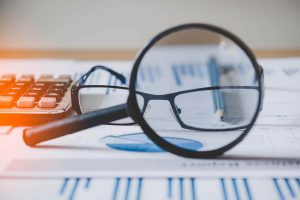 6. Work with your tax preparer or accountant.
A bookkeeper can make the preparation easier when it's tax time by generating and providing the information your CPA needs.
7. Ensure tax compliance.
With so many confusing tax codes and regulations to follow, your bookkeeper can work with your accountant to ensure that your business is compliant.
When you consider these seven responsibilities, it's clear bookkeeping is a full-time job that plays a critical role in your business's success. Does your current bookkeeping system have it all covered?
Covering Your Bookkeeping Bases
If you've been spending the time doing the bookkeeping , you may want to ask yourself if it's taking you away from your business. And, be honest: are you able to—or currently able to—handle all of those tasks?
If you use a bookkeeper, are you receiving these services? And, is the relationship working?
Are you worried about the cost of hiring a bookkeeper, whether as a new service or if it's more expensive to find a replacement for a service that isn't providing what you need?
These are valid questions and concerns. The good news is that there is a full-service, affordable solution that thousands of small businesses use: Outsourced bookkeeping.
Outsourced bookkeeping allows you to free up your time to work on your business at a price that's much less than hiring an employee to handle the bookkeeping. It's a practical solution that gives you the expertise you need at a cost you can appreciate. It's also easy and affordable to change from another bookkeeping service that isn't giving you the right support.
Remote Books Online is an outsourced bookkeeping option that covers all the bases of your particular situation using the latest automated processes with a personal touch.
Remote Books Online: Outsourced Bookkeeping Experts for Small Businesses
We offer all the seven bookkeeping services listed above and more, for as low as $95 a month by certified QuickBooks Pro and Xero-Certified Advisors. This includes the accounting software subscription fee and automated, secure, monthly bank statement downloads.
You'll also have a dedicated, certified lead accountant (with a four-year accounting degree and often more credentials) to answer all of your questions. And, you can expect same-day answers. This relationship is something our clients really appreciate, as one of our client's shares :
"Amazing! knowledgeable, professional, and oh-so-very responsive! They are always there to answer our questions and provide quick turn-around of documents and support. Remote Books has helped us step up our game!"— Gregallan Williams
Want to see how we work?We offer to enter all transactions, make necessary journal entries, and reconcile one month of your books for free. We are happy to extend this offer as a way to show you that your bookkeeping is in good hands.
Find out exactly what a bookkeeper should do for your business. Please contact us today for your quote. We look forward to working with you soon and helping you get back to business.