As a small business owner, realizing that you need bookkeeping help is a pivotal moment in your business's development. You've realized:
That by having someone else do the bookkeeping, you'll get back time to devote to the business
That your financials will be up-to-date and ready for review at tax time
That you'll know exactly how your business stands
That an online bookkeeping service is less expensive and more convenient, reliable, and affordable than hiring someone for your staff
But, how do you know the best online bookkeeping services to get? You can't trust this critical part of your business to just anyone.
The Top Bookkeeping Services You Should Expect
The following are non-negotiable services and conditions you must demand when trusting someone with your finances and your future.
Degreed, Professional Bookkeepers. Any service you choose should have bookkeepers with the appropriate background to handle your work. For instance, at Remote Books Online, we only employ bookkeepers and accountants with at least a four-year accounting degree and often with a master's in accounting and advanced professional licenses such as the CPA (Certified Public Accountant). You'll be assigned your own lead dedicated bookkeeper with these qualifications to be your personal point of contact at all times.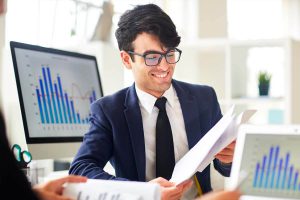 A Complete Range of Services. Now that you're handing your bookkeeping over to a service, you want to be sure you're receiving all the services you know you need, along with those you didn't realize you needed. At Remote Books Online, certified QuickBooks ProAdvisors and Xero-Certified Advisors provide these services. You can expect:
Balance sheets, monthly reconciliation, and categorization
Accounts receivable and accounts payable tracking
Payroll management
Quarterly financial reporting and reviews
Ongoing meetings with your dedicated lead accountant
Tax preparation and financial readiness for loans, purchases, and growth
Same-day responses to your questions, and more
An accurate financial picture. Statistics show that 82% of businesses fail because of insufficient cash flow and that only 40% of small businesses are profitable. When you work with us, you will always know your financial situation. That kind of knowledge is power because accurate information will help you make the best decisions. Plus, you'll be ready for your taxes and not be in danger of under-estimating them.
Data security. Your bookkeeper will import your bank account statements into your QuickBooks online, QuickBooks desktop, or Xero account—the most accepted and respected accounting software in the world. Then, our state-of-the-art technology framework integrates major banks into our process, helping save you time and frustration with monthly downloads and information sharing.
We protect your data with 256-bit SSL/TLS encryption, the same level of encryption you'll find with online banking. And, that's important when studies show that 43% of small businesses are victims of cyberattacks.
Best in class customer service. We're proud of how we've helped many thousands of small businesses get their financial footing.
As Warda Chaudhary shared with us, "We've been working with Remote Books for over a year now, and I have had a great experience with them. The company offers amazing customer service, reliability, and impeccable professionalism. They are also very knowledgeable and easy to work with."
You can trust that every client receives the same impeccable support.
It Doesn't Have to Be Expensive to Get The Best Online Bookkeeping Services
We offer bookkeeping services as low as $95 a month by certified QuickBooks Pro and Xero-Certified Advisors. But, to help you get to know us, we offer to enter all transactions, make necessary journal entries, and reconcile one month of your books for free. We are happy to extend this offer as a way to show you that your bookkeeping is in good hands.
Our affordable monthly rates also include the accounting software subscription fee and automated, secure, monthly bank statement downloads.
Now that you've decided it's time to outsource your bookkeeping, we hope you'll go with the online bookkeeping service that's the best value combination of professional skill, secure services, and price. All of us here at Remote Books Online look forward to helping with your free month reconciliation project. Get your quote to us today so that we can get started.