When you consider that there are over 31 million small businesses in the US, there are probably many things you have in common with other small business owners.
Like some, you may have started your business because of a dream. Or because of a necessity. It may have been to help others or to fill a need. But there is one thing that all small business owners have in common: you need customers.
82% of small businesses have failed because of cash flow problems, arguably contributed to by not bringing in enough income. So, for you, how to get bookkeeping clients is just as important as providing superior services. But how can you go about it, especially if you don't have a lot of money to put toward it?
9 Low Or No-Cost Ways To Find Bookkeeping Clients
Fortunately, there are several tried and true ways to find potential clients for your bookkeeping business, and most cost little to no money.
Ask.

One of the easiest places to start and, to some, one of the hardest things to do, is to ask.

First, if you haven't already, don't forget to ask your friends and family if they know anyone who might need your services. You may be surprised by the result.

Next, ask your current customers if they know of anyone who might need your bookkeeping services. There's a good chance they may, and their recommendation will go a long way toward easing the conversation. Depending on your budget, you might want to offer a special deal if one of your current clients refers someone who comes on board, such as a gift certificate to an area restaurant or a percentage off one month's fee.

Talk.

Practice makes perfect when it comes to you and your business. Think of yourself with a new identity: Jane Smith, small business bookkeeper. Practice introducing yourself and talking about your services until it comes naturally to you. Not a used car salesman pitch, but an organic explanation that lets people know what you do and who you do it for. "I have a bookkeeping service for small businesses in the area like Wayne Toy Town." Or, "I do bookkeeping for nonprofits like the Milltown Film Institute." Giving an example gets the conversation flowing. Remember, you are your best advocate.

Another way to talk is to sign up at a local community college or school night to explain bookkeeping. You get to share information that can help others. So talk!

Join.

Search out your local chambers of commerce and join. You will find many opportunities to get involved and, more importantly, you meet many small business owners who could need your services. In addition, they usually offer reasonably-priced advertising programs that can help you get in front of large portions of the community, too.

Get involved in a group that interests you. You never know what the connection will provide you with. At the very least, it can get you away from the office for a little bit and lessen some of the pressure you're under.

Last, provide your services for a group you already belong to. Perhaps it's to act as the treasurer for your child's PTO or your church. You'll be in a role that helps strengthen the organization, and that's valuable in itself.

Digitize.

A website is a must to give credibility to your bookkeeping business. But you don't have to spend a lot of money on it or put a lot of content on it. Check out Wix, Squarespace, Weebly, and other website makers for affordable options to give your business a web presence that can be found when customers are looking. You can also use your website to sign up leads when someone visits it and offer a free e-newsletter or notification of a blog.

Socialize.

When used along with the website, social platforms are another way to generate and fulfill interest. Your website is a great place to post a blog on a timely topic or tip, and you can generate interest for it via social media posts and emails.

Suppose you want to find out how to get bookkeeping clients from a specific business or area that you specifically enjoy, have a good background for, or want to do more of (for instance, you love animals and want to help animal shelters, or you have a background in another language and want to help businesses where English is not their first language). Social media is a great way to get in front of them.

Look.

This one may be so obvious it's overlooked: read the papers or online news sources for people looking to hire part-time bookkeepers and apply.

Advertise.

You have many options for advertising depending on how much you want to spend:

Send out a press release to local newspapers or their online versions for significant events (including your website, social handles, and other contact information.
Place an ad in the local news sources, especially at certain times of the year like tax time.
Make sure that your business is listed in any local directories.
Take out that ad in your children's (or neighbor's) play or sports program, or sponsor an event.
Look into Google for SEO and ad targeting in your area. If you have a specific niche that you do work for or want to do work for, target them here as well.
Offer a free month's service as a prize for an event.

Partner.

Talk to local accountants (including your own) and see if you can work together on customer acquisition. You tell your bookkeeping clients about their tax prep services, and they tell their tax prep clients about you. It's a win-win situation for both of you.

Then, don't forget to talk to your dry cleaner, doctor, vet, salon, and others who provide services for you and see if they would like to try your services or know of anyone who might be interested. Or, you offer dry cleaning coupons to your customers, and the dry cleaner puts your sign on her counter.

Last, take a stroll along a local business district and visit each one. Introduce yourself and leave behind your information. That's it—no hard sell, just making a connection.

Grow.

After doing several or more of these tips, you'll hopefully be welcoming new clients to your business. Then, instead of asking, "How to get bookkeeping clients?" you'll be asking, "How can I support my growing business?" After all, you're probably fairly lean-staffed (or even handling it all on your own).

That's where white label bookkeeping services come in. It's an affordable way to provide services to your expanded client base. In fact, you can even offer more services, especially with help from all of us at Remote Books Online.
Remote Books Online is an outsourced bookkeeping solution that provides back (or catch-up), part-time, and real-time bookkeeping performed by staff with at least a four-year accounting degree and often advanced degrees or a CPA designation.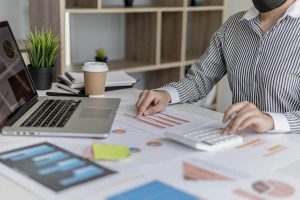 We provide services using trusted systems.
Bank statements are imported into QuickBooks online, QuickBooks desktop, or Xero accounts.
Monthly transactions are categorized, and reconciliations are made.
Clients get year-end financial reports—Profit and Loss Statement, a Balance Sheet, and an Income Statement—along with everything needed for taxes.
You probably wonder why you need someone to do what you do. Well, it's what else we do that is the difference.