When you became involved in real estate, it may have been because you dreamed of working with people and finding them homes. Or you may have done it because of a dream of financial success by investing and renovating like Flip or Flop. Or as the perfect complimentary offshoot of a construction business or a property management company. But you probably didn't dream about the financial record keeping and expense tracking that's so important to your business.
Staying on top of bookkeeping for real estate businesses i s essential for a smoothly-running business and knowledge of your income, expenses, and cash flow. Following these tips will help you keep your financial house in top shape.
5 Steps To A Successful Real Estate Bookkeeping System
Bookkeeping consists of simple a ccounting procedures that aren't so simple if you don't have a business, finance, or accounting background. Understanding and following these five procedures are a must if you want to succeed.
Step One: Keep track of everything.
You have a lot of expenses that go into running your business. And you probably handle some pretty large transactions, too. It's important that you keep track of everything to ensure you have a good picture of your cash flow and get the most tax benefits. You are also making sure that your business dealings are transparent and reducing paperwork later because you won't have to backtrack.
You'll need to keep track of:
Receipts when you pay for any products or services such as listing or permitting fees, office supplies, construction supplies, cleaning services, meals, or travel
Other payments such as payroll, loans, capital expenditures, or insurance and other benefits
Invoices for billing
Revenue for sales commissions, leasing, and rents
Bank and credit card statements
Assembling all of this information is necessary before you can start to understand the true state of your business. Now you can:
Step Two: Set up and use your general ledger.
Your general ledger is the place where you will post all of your assembled information to create your financial statements. Before you start, you will need to decide whether to use single or double entry posting. Although it is more complicated, most businesses use the double entry method where each transaction is counted in both the debit and credit columns, and the total of debit and credit entries must match. It is important to stay on top of posting to keep an accurate financial picture of your real estate business.
After setting up your general ledger, you will be able to:
Step Three: Generate reports.
These reports are necessary to understand your business's finances and are also used by your accountant at tax time. In some instances, they could be audited by the government. Or you could need them when asking for a loan or making an investment. They are developed from all of the information you gather in step one and post in step two.
You can generate:
Accounts Payable and Accounts Receivable (APs and ARs)
Profit and Loss statements (P&L)
Cash Flow statements and other balance sheets
Next, you'll have everything you need to:
Step Four: Meet with your accountant.
When it comes time to meet with your account, you'll be ready with all the necessary information. It will be much easier for your accountant to make sure you comply with state or federal tax laws when your financial statements are accurate and up-to-date. This is especially true if you are an independent contractor. And you won't need to search for a needle in a haystack through months of back paperwork to find what you need.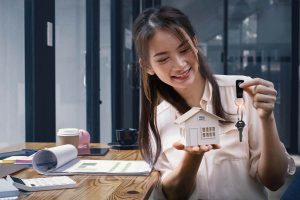 After seeing everything that goes into handling the bookkeeping for your real estate business, you should decide:
Step Five: DIY or outsource?
Taking on the role of bookkeeper is a lot of work and takes a lot of time. That's why, even if they have the skills and background to do it, many people decide that it's a better use of their time to outsource it. It's time better spent growing or attending to their business. At Remote Books Online, that's where we come in.
We offer bookkeeping services as low as $95 a month by certified QuickBooks Pro and Xero-Certified Advisors. Our affordable monthly rates also include the accounting software subscription fee and automated, secure monthly bank statement downloads.
One of our specialties is Back Bookkeeping, where we get clients' books quickly set up and current. This is especially welcome if you are worried about how to get started. In fact, we offer to enter all transactions, make necessary journal entries, and reconcile one month of your books for free. We are happy to extend this offer as a way to show you that your bookkeeping is in good hands.
We'll look forward to talking more about your particular business and how we may be able to help with the books.