5 Ways Businesses Benefit From Combined Bookkeeping And Tax Services
Why Combining Bookkeeping With Tax Services Makes Sense


As a small business owner, you're used to doing most, if not all, of the work. Some of that may be for economic reasons. Or it may be that you may feel no one knows the business as well as you do. But most business owners eventually get to the point where they realize for the company to grow (or to bring back some quality of life), they need to start delegating.
One area that makes the most sense to delegate is your finances. Outsourcing your tax preparation and bookkeeping can be a wise solution for several reasons.
Bookkeeping can be time-consuming
Bookkeeping can take you away from growing your business
Bookkeeping and tax preparation are both specialized services that benefit from being handled by people with financial and/or accounting backgrounds
Beyond that, however, an idea that's growing in popularity is not just to outsource your bookkeeping and tax prep but to have both your bookkeeping and tax prep done in the same place.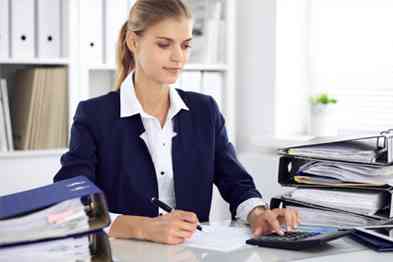 ---
Why Combining Bookkeeping With Tax Services Makes Sense
When you have your bookkeeping and tax services handled by the same company, it enables you to:
Ensure that your complete financial picture is in one set of hands.
A bookkeeper will record all of your daily financial transactions and:

Reconcile bank and credit card statements
Post debits and credits
Produce invoices and accounts receivable (AR) and accounts payable (AP)
Manage payroll
An accountant or CPA will verify and analyze your bookkeeper's data and:

Generate financial records like tax returns, income statements, and balance sheets
Help plan for business trends and growth
Produce invoices and accounts receivable (AR) and accounts payable (AP)
Help the business owner understand the impact of financial decisions
Ensure one set of books.
Your CPA may make changes come tax-time for any number of reasons, including depreciation, that don't get transferred back to your bookkeeper's set of books. While these changes may not be major, they could cause an issue when getting a loan or if the IRS audits you and your management books don't match your tax returns. When the same company handling your taxes handles your books, these communications aren't left to chance.
Ensure seamless and timely handoff of financial information.
Your bookkeeper has an open communications channel with your accountant or CPA. You don't need to waste time sending questions and answers back and forth.
Ensure one less thing to worry about.
Keeping both services with one provider decreases the amount of time that you may need to devote to navigating two different companies' way of doing business.


Remote Books Online now offers both Bookkeeping and Tax Preparation Services
At Remote Books Online, we have long provided bookkeeping services to small businesses, setting you up with a team headed by your own lead accountant (many with a CPA designation and all with a four-year accounting degree).
Your bookkeeping team keeps your books current and ready for the handoff to your CPA or accountant at tax time. Now, you can use Remote Books Online to prepare and file your taxes, too. With our start-to-finish accounting solutions, here in one place, there's no need for a handoff to another company.
The 5 Benefits of Having One Accounting Solution with Remote Books Online
With Remote Books Online, not only will you benefit by having a complete picture of your business's finances understood by all involved, you get the benefits of:
Twice-yearly tax strategy meetings to help lower your taxes (with plans your bookkeeper can implement)
Compliance with local, state, and federal regulations
Straight communication between your bookkeeper and accountant whenever there are questions
Peace of mind that your books are ready at tax-time, with no worries about penalties for filing late, and
Time to put back into your business because you don't need to coordinate services or do them yourself
---
Start-To-Finish Services at Affordable Prices
Our bookkeeping solutions start at $95/month and our tax services at $500/year. When you consider that the IRS reports that 40 percent of small businesses incur an average of $845 each year in penalties for late or incorrect filings or payments, these new services together are a cost-effective way to help small businesses avoid pricey mistakes.
We understand, however, that you may want to talk to us and try us out before committing. So please feel free to contact us about our offer to reconcile one month's worth of your books for free. This can give you a real-life and real-time example of just how we work and how committed we are to your success.
So if you're ready to stop doing all the work and find a start-to-finish solution for your accounting needs, we hope you contact us and learn more about how we can help you.


Get Started With Remote Books Online Today
Try Us Out For Free!
It's easy to experience and evaluate our bookkeeping services for yourself. We'll enter all transactions, make all necessary journal entries, and reconcile one month of your books for free. Let's get started today.
Speak with an agent to get a quote and set up an appointment with a Certified QuickBooks Pro Advisor to go over your books. Ask any questions you may have about how our new Tax Services work.
Tax Prep, Filing and Bookkeeping Checked off Your List
Now that Remote Books Online is keeping track of your finances for you, what will you focus on next? Finding more customers? Offering more products or services? Expanding? With Remote Books Online on your side, you can start planning now.
Say goodbye to late nights of data entry and other tedious and frustrating bookkeeping work.
Stop stressing about getting your books ready for tax time and keeping up with different tax filing and payment schedules.
Focus on growing your business and freeing up time to enjoy your life instead.

Here's what people are saying
Get Your First Month of Bookkeeping Services for FREE!