Stop Searching For Affordable Tax Services For Your Business
Understanding Tax Services And Their Costs


Like many business owners, you probably had more than one reason for starting your own company. It may have been to be your own boss or to pursue your passion. To have more flexibility or to feel like you're making a difference. Of course, making money is probably a big reason, too. So, chances are, it wasn't because you couldn't wait to pay taxes. Unfortunately, paying taxes is a big reality of owning your own business.
Finding a business tax service you trust is important. But watching your budget is also essential. How much can you expect to pay for someone to handle your taxes?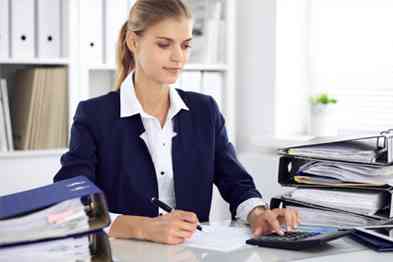 ---
Understanding Tax Services And Their Costs
While you may turn to one to prepare and file your taxes, you may be surprised to find out what else a tax service can do for you and your business. Using them for these other services or having them available if needed can give you peace of mind that your business affairs are in good hands.
Five Ways A Tax Service Can Help You
1. A tax service prepares and files your taxes for you. According to a 2018 NSBA Survey, one out of three small businesses reports spending 40 hours preparing their taxes while others can spend 80 hours. That's a lot of time to spend away from your job. Letting a professional handle it lets you do what you do best.
2. A tax service can meet with you throughout the year to discuss strategies on how to lower taxes. If you wait to talk until tax time, it may be too late to realize deductions that could save on your tax bill.
3. A tax service can help you with your bookkeeping.If you're not prepared with your financial information, a tax service can step in (although it will increase costs and timeframes).
4. A tax service can make sure you comply with regulations. They are on top of current and pending changes to federal, state, and local rules and it's their job to understand all complexities surrounding them.
5. A tax service can prepare IRS letters if you are audited and speak to the IRS on your behalf. They can also represent you at meetings or hearings, prepare, file, and submit documents, and provide you with advice.


Comprehensive Tax Services For A Cost You'll Appreciate
Remote Books Online offers these affordable tax services and more starting at $500 a year (depending on the size and type of business) for everything you need.
Your local, state, and federal taxes are prepared and filed, even for payroll

You don't need to worry about which form to use—we know which ones you need
Plus, you'll be compliant with ever-changing regulations

You meet with us twice a year for strategic tax planning sessions

You will benefit from timely advice to help lessen taxes
You'll be assigned your own lead accountant

You will always hear from us on the same day when you reach out to us, guaranteed

You can also have your bookkeeping done by us

You can relax knowing your books are in top shape and ready for a seamless handoff at tax-time
Remote Books Online Helps With Your Forms
The forms you need prepared and filed depend on the type (S-corporations, C-corporations, Sole proprietorships, partnerships, or LLCs) and size of your business. This list may include:
Employment Forms
If you employ people, you may use:
Form 1099-MISC. Use this form if you have paid a contractor—not an employee—a minimum of $600 for services performed.
Form W-2. Use this form if you have paid an employee $600 or more throughout the year to report wages and tax withholdings.
Form W-3: Use this form to send employee W-2s to the Social Security Administration.
Form 940. Use this form to file your annual Federal Unemployment Tax Act (FUTA) tax.
Form 941. Use this form to report federal income tax withholding and Federal Insurance (FICA) taxes.
Business Expense Forms
To report business expenses, you may use:
Form 1040: Use this form to file your individual income tax. Sole proprietors will then complete additional Form 1040 schedules.
Form 1040-ES. Use this form to calculate and pay estimated taxes (including on business profits and self-employment).
Form 1040 Schedule C. Use this form to report business income, expenses, and loss. Sole proprietors can also use this form to list business profits and expenses.
Form 1040 Schedule C-EZ. Use this form if you are a smaller business (and meet IRS requirements) instead of Schedule C to report business income, expenses, and loss.
Form 1065. Use this form if you are a partnership to report financial details such as income, losses, gains, credits, deductions, and more.
Form 1120. Use this form to report income, losses, games, credits, deductions, and other items if your business is a C corporation.
Form 1120-S. Use this form if you are an S corporation to report the items included on Form 1120.
Form 1120 Schedule K-1. Use this form for all the shareholders if you have an S corporation.
Form 1120 W. Use this form for estimated taxes that may be due quarterly for both C and S corporations.
Form 4562. Use this form to report depreciation of valuable property or equipment.
Form 8829. Use this form if you use part of your home for your small business.
Form 5329. Use this form to report taxes on IRAs as well as other qualified retirement savings plans, HSAs, or more.
Additionally, it can be a little more complicated if you are an LLC (limited liability company). You can be regarded as a corporation, a partnership, or included as part of your own personal tax return. You'll need to know how your LLC was classified for tax purposes to know which forms to complete and file.
Remote Books Online can help ensure you're filing the correct information with the correct form in the correct timeframes.
---
How Much Does It Cost To Get Business Taxes Done?
According to the National Society of Accountants, example CPA services can fall in these average cost ranges:
Form 940:
$78 to prepare
$111 hourly fee
Form 1120:
$806 to prepare
$181 hourly fee
Form 1040:
$220 to prepare non-itemized Form 1040, $323 when itemized
$153 hourly fee non-itemized, $161 hourly fee when itemized
Form 1065:
$733 to prepare
$177.29 hourly fee
Form 1120:
$913 to prepare
$181.57 hourly fee
Other fees you may encounter include:
$165 for disorganized files
$116 if tax information is received less than 16 days from the filing deadline
$161 for IRS letter/audit response
$799 average retainer fee if representing at an in-person IRS audit
$377 for tax preparation for non-current year
$712 for accounting services for non-current year
$108 hourly fee for QuickBooks or Bookkeeping advisory services (QuickBooks fee is usually in addition to your own purchase fee)
$163 hourly fee for audit of financial statements
$153 hourly fee for financial services
All in all, there are many forms and a lot of fees to consider when it comes to your taxes. Doing them correctly is imperative to keep your company in compliance and save money in the long run. But you can see how service fees can quickly add up. Remember, Remote Books Online's affordable tax services start at $500 a year and you won't be hit with all of these individual service fees.
---
Remote Books Online Is The Affordable Full-Service Tax Solution You Need
At Remote Books Online, our only goal is to help you get the time and financial advice you need to help your small business succeed—at a price that won't rock your budget. When you consider that the IRS reports that 40 percent of small businesses incur an average of $845 each year in penalties for late or incorrect filings or payments, these new services can also help you avoid these costly mistakes.
Talk to us today about how we can remove your frustration and confusion when handling your small business taxes. (And ask about our bookkeeping services, too.)
Then you can get back to what you really want to do: run your business. Get a quote today.


Get Started With Remote Books Online Today
Try Us Out For Free!
It's easy to experience and evaluate our bookkeeping services for yourself. We'll enter all transactions, make all necessary journal entries, and reconcile one month of your books for free. Let's get started today.
Speak with an agent to get a quote and set up an appointment with a Certified QuickBooks Pro Advisor to go over your books. Ask any questions you may have about how our new Tax Services work.
Tax Prep, Filing and Bookkeeping Checked off Your List
Now that Remote Books Online is keeping track of your finances for you, what will you focus on next? Finding more customers? Offering more products or services? Expanding? With Remote Books Online on your side, you can start planning now.
Say goodbye to late nights of data entry and other tedious and frustrating bookkeeping work.
Stop stressing about getting your books ready for tax time and keeping up with different tax filing and payment schedules.
Focus on growing your business and freeing up time to enjoy your life instead.

Here's What People Say About Our Online Bookkeeping Services
Giving our clients the financial support they need to succeed in their business is our only business.
Get Your First Month of Bookkeeping Services for FREE!