New! Get Your Bookkeeping And Taxes Done In One Place
Remote Books Online handles your books and taxes, so you can run your business.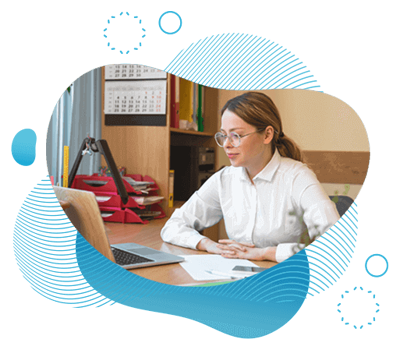 You Handle Your Business. We'll Handle Your Books and Taxes.
We quickly and easily help you get your books up-to-date and ready for taxes, loans, or other transactions, for a clear picture of your business's financial situation
Our convenient, online bookkeeping services start as low as $95 a month and are provided by Certified QuickBooks ProAdvisors and Xero-Certified Advisors
We include accounting software and automated and secure encrypted monthly bank statement downloads
We have your needs covered with back bookkeeping, real-time bookkeeping, payroll, and full- or part-time bookkeepers, so you can get back to doing what you do best
We'll reconcile one month of your books for free, so you'll see exactly how we remove your bookkeeping stress and frustration
---
We support you with QuickBooks and Xero accounting and small business bookkeeping software programs.

Quickbooks is the accounting software package developed by Intuit and geared towards small and medium-sized businesses.

Xero is a cloud-based accounting software platform for small and medium-sized businesses.


Benefits
Why Choose Remote Books Online?
Effortless Bookkeeping, Tax Preparation, and Tax Filing
In addition to our highly regarded bookkeeping services, you can now experience the ease of having all of your small business's financial needs handled in one place.
First, our bookkeeping services will ensure that your financial information is ready to go when tax time comes around. You'll no longer feel stressed about catching up on your bookkeeping, and you'll no longer face surprises about your financial situation.
Next, you won't need to worry about handing all your financial information off to a separate tax preparer. With our integrated system, time-consuming questions are a thing of the past.
Last, we'll file your taxes for you, and send you the PDFs for your records. It's that simple. By handling the bookkeeping, the tax filing, and everything in-between, we can be your full-service partner that lets you get back to business.
All of Your Taxes Prepared and Filed
State, federal, monthly, or quarterly states sales tax—we can do them all for you at Remote Books Online.
Tax Strategy Sessions
We'll meet with you once or twice a year as needed to help you strategize the best financial moves to minimize your tax obligations.
Dedicated Tax and Bookkeeping Specialists
You will be assigned your own dedicated bookkeeper and meet with one of our lead accountants. (All of our dedicated lead accountants have a minimum education of a four-year accounting degree, and many are CPAs.)
Same Day Response
When you have questions, we're easy to reach. Just call or email us and receive a same-day response. Remote Books Online's web service and solid staffing strategy mean we don't have to be local to provide you with the unmatched service and response you need and want.
Tax Services Start at $500
This affordable rate combined with Remote Books Online's value-priced $95 a month bookkeeping service and solid reputation helping small businesses like yours gives you a viable financial solution that frees you up to concentrate on your business. You can relax knowing the correct financial information can make all the difference to your success. (You may also want to take a moment to check out Remote Books Online's Payroll Processing section for more convenient services.)


Get Started With Remote Books Online Today
Try Us Out For Free!
It's easy to experience and evaluate our bookkeeping services for yourself. We'll enter all transactions, make all necessary journal entries, and reconcile one month of your books for free. Let's get started today.
Speak with an agent to get a quote and set up an appointment with a Certified QuickBooks Pro Advisor to go over your books. Ask any questions you may have about how our new Tax Services work.
Tax Prep, Filing and Bookkeeping Checked off Your List
Now that Remote Books Online is keeping track of your finances for you, what will you focus on next? Finding more customers? Offering more products or services? Expanding? With Remote Books Online on your side, you can start planning now.
Say goodbye to late nights of data entry and other tedious and frustrating bookkeeping work.
Stop stressing about getting your books ready for tax time and keeping up with different tax filing and payment schedules.
Focus on growing your business and freeing up time to enjoy your life instead.


Here's what people are saying

Get Your First Month of Bookkeeping Services for FREE!