Why Outsourced Bookkeeping Services Will Fit Your Business
Reasons Small Business Owners Can't Stand Bookkeeping


Your business isn't bookkeeping. But ours is. Let us take care of it for you.
We quickly and easily help you get your books up-to-date and ready for taxes, loans, or other transactions, for a clear picture of your business's financial situation
Our convenient, bookkeeping services online start as low as $95 a month and are provided by Certified QuickBooks ProAdvisors and Xero-Certified Advisors
We include accounting software and automated and secure encrypted monthly bank statement downloads
We have your needs covered with back bookkeeping, real-time bookkeeping, payroll, and full- or part-time bookkeepers, so you can get back to doing what you do best
We'll reconcile one month of your books for free, so you'll see exactly how we remove the stress and frustrations of bookkeeping from you
---
We support you with QuickBooks and Xero accounting and small business bookkeeping software programs

Quickbooks is the accounting software package developed by Intuit and geared towards small and medium-sized businesses.

Xero is a cloud-based accounting software platform for small and medium-sized businesses.


Why Outsourced Bookkeeping Services Will Fit Your Business
Fully 45% of small businesses don't employ a bookkeeper. Often there's simply no money to bring one on staff.
Unfortunately, an inability to expand the payroll doesn't eliminate the need for accurate and up-to-date balance sheets, profit and loss (P&L) statements, and other financial reporting.
If you're one of the many entrepreneurs who's found DIY bookkeeping is holding you back, Remote Books Online encourages you to consider whether it's time to adopt outsourced bookkeeping services.
They may prove the breakthrough your business has been waiting for.
Learn more about outsourced bookkeeping
---
Reasons Small Business Owners Can't Stand Bookkeeping
Do you recognize any or all of these common bookkeeping challenges?
You don't have enough time.
Think about all you have to do every day as a small business owner.
You're busy providing your products and services—the reason you started your company in the first place. You're making sales, nurturing your network, and keeping your customers happy.
On the backend, your administrative to-do list may already include everything from ordering supplies, dealing with your company's website (again), and making sure the bills get paid before they're due.
Where will you find the hours you'd need to balance your books in a consistent and timely way?
On average, small businesses spend 120 working days a year on administrative tasks. Accounting is nearly a quarter of that burden.
You can't afford to spend as much as 46% of your working days maintaining your ledger. But outsourced bookkeeping services can take the time to accurately and thoroughly document your accounts—and because it's all they do, they can do it far more quickly than you could.
You need more information and accounting expertise.
Whether you consider yourself good with numbers or not, few business tasks can feel more intimidating than financial reporting.
Around 80% of Americans "rarely or never" balance their personal checkbooks—so how equipped could most of us be to prep a P&L statement or ready the month's accounts receivable and accounts payable reports?
Bookkeeping isn't high school math homework. Your company's current health and its future growth are in those columns of numbers. Any mistakes you make could cost you a clear picture of where your business stands and where you could take it.
Common errors include underestimated expenses, overpaid taxes, and overlooked revenue. Depending on their severity, mistakes could also land you in trouble down the road with the IRS—an agency not famous for forgiving slip-ups!
The stakes are high. You could keep going it alone with software like QuickBooks® Online and hope for the best.
Or you could outsource your bookkeeping to professionals who've earned degrees and advanced certifications in this specialized discipline, and who know the leading software programs, like QuickBooks® and Xero,™ inside and out. You can be confident such professionals know how to keep your books in order and error-free.
You could and should spend your energy in more productive, profitable ways.
You're used to working hard for your business's success.
About one-third of small business owners work more than 50 hours per week and at least three of the six major U.S. holidays, and 86% work on weekends, according to banking provider Kabbage. You have precious few chances to forget about work at five o'clock.
But when you're pouring that much personal power into your business, you should be busy actually growing your business, not sweating over balance sheets and income statements.
Acquiring new leads. Perfecting processes. Setting quarterly goals. Strategizing to scale up operations. Bringing new products and services to market.
Your entrepreneurial skills benefit your business most in these areas and others like them—not in crunching the numbers and balancing the books.
When you rely on outsourced bookkeeping services instead, you may still be working as long as you were before (though we hope you'll find a healthy life-work balance). But at least you'll know you're expending effort on tasks directly related to your business's growth. Let your bookkeepers handle the routine recording and reporting of results.


Remote Books Online Is Reliable, Affordable Outsourced Bookkeeping
Remote Books Online takes the burdensome work of bookkeeping off your plate completely.
Month after month, we keep your backroom financials in order, freeing you up to stay out front where you belong: serving existing customers, winning new ones, and growing your business's income and impact.
We'll develop a custom plan for getting and keeping your books in shape. We'll connect you with dedicated accountants, all of whom hold at least a Bachelor's in Accounting, and who are fully certified in Xero™ and QuickBooks® Online.
Our secure document storage and transfer system relies on AES 256-bit encryption (the same robust level of security used in online banking) and SSAE 16 audited data centers, meaning they meet standards developed specifically for CPAs.
You'll have real-time, 24/7/365 access to all your financial reporting—balance sheets, P&L statements, accounts payable, accounts receivable, and more—so you always know your business's fiscal footing.
And we offer our secure, time- and effort-saving, expert outsourced bookkeeping services at a variety of affordable price points. You'll find a package right for your budget.
Why not request your free, no-commitment quote? Call us at 1-800-583-0148 or contact us online today.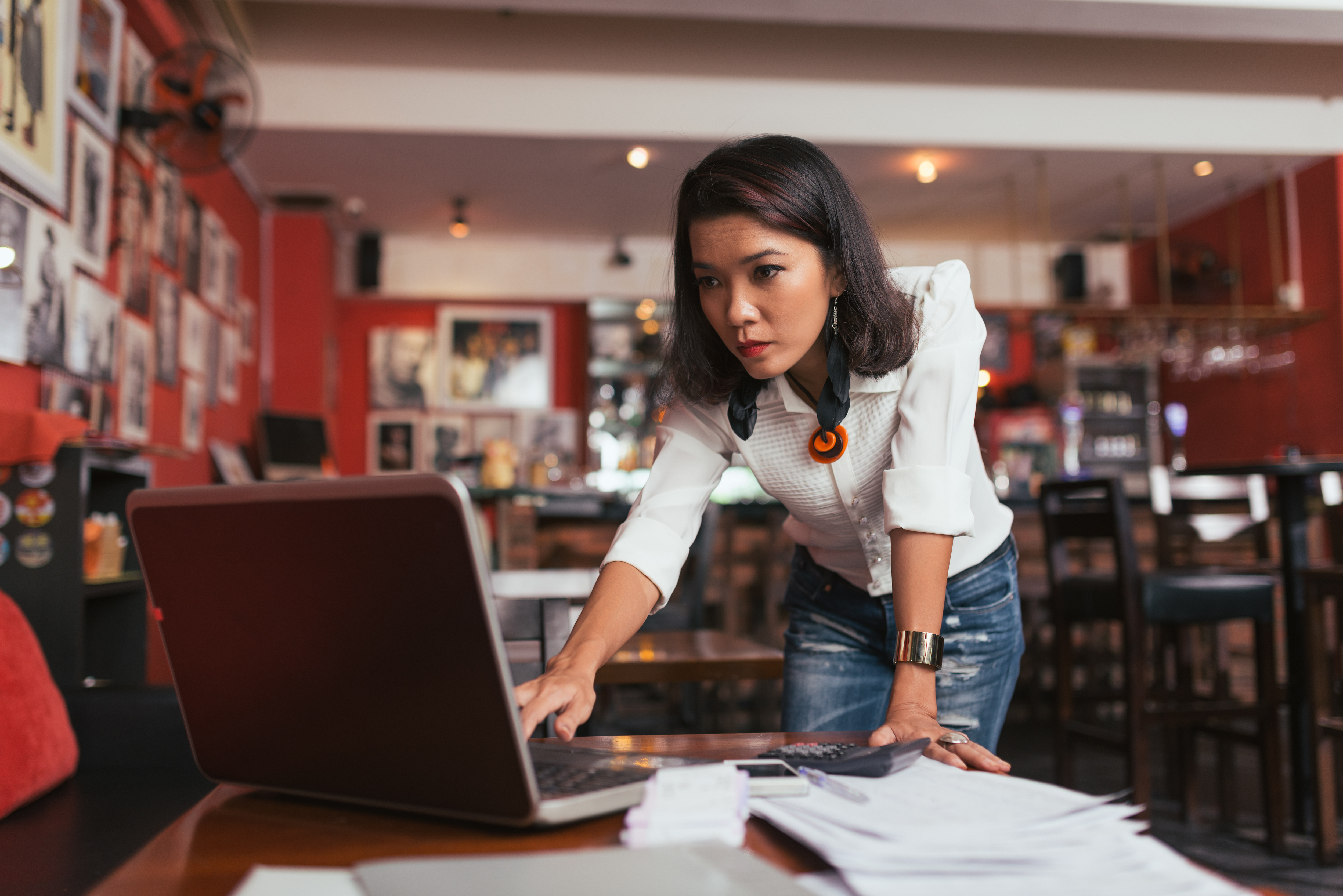 Here's what people are saying

Get Your First Month of Bookkeeping Services for FREE!