White Label Accounting Solutions For CPAs


Expand Your Business With White Label Bookkeeping
As a CPA, you may often find yourself in a feast or famine situation, with plenty of work to keep you busy with taxes while it slows down at other times. Having steady—and additional—business is your goal, but it's hard to staff and grow a business when the need for staff and cash flow isn't always consistent. How can your accounting business take the next step?
Fortunately, there is a solution many CPAs like you have found that is easy and cost-effective to implement. It's called White Label Bookkeeping, and it gives you the tools to offer more services and provide additional value to your clients while growing your own business.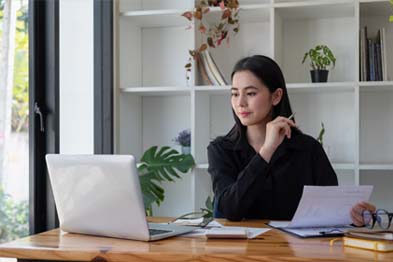 ---
We Support You With Quickbooks And Xero Accounting And Small Business Bookkeeping Software Programs

Quickbooks is the accounting software package developed by Intuit and geared towards small and medium-sized businesses.

Xero is a cloud-based accounting software platform for small and medium-sized businesses.


Expand Your Business With White Label Bookkeeping
Remote Books Online has the services, software, security, and—essentially—the staff you need so you can increase what your firm offers.
Who are we, and what do we do?
Remote Books Online is an outsourced bookkeeping solution that provides back (or catch-up), part-time, and real-time bookkeeping performed by staff with at least a four-year accounting degree and often advanced degrees or a CPA designation.
We provide bookkeeping services using trusted systems.

Bank statements are imported into QuickBooks online, QuickBooks desktop, or Xero accounts. Then the bookkeeper categorizes the monthly transactions and prepares the necessary financial statements and reconciliations. Clients get year-end financial reports—Profit and Loss Statement, a Balance Sheet, and an Income Statement—along with everything needed for taxes.

Clients are assigned a dedicated lead bookkeeper who only works on their account.

The team also includes a lead accountant, Certified QuickBooks ProAdvisor bookkeepers, Xero-Certified Advisors, and QC-trained, quality control agents who are among the most highly trained in the field.

Clients get fast answers and professional, considerate service.

Their dedicated lead bookkeeper will always be available for questions, and they can relax knowing they'll hear back the same day.

We take security seriously.

Clients can trust all transactions are secure, with the same level of encryption as online banking. They get Citrix ShareFile Document Storage with AES 256-bit encryption and SSAE 16 audited data centers.

Plus, we also have payroll processing through Intuit.

Our online payroll service automatically calculates, files, and pays the federal, state, and local payroll taxes for clients. At year-end, we post W-2 and 1099 forms online. Clients can review and approve them before they are final.
That's what Remote Books Online does. Now, what does that mean to you?
We White-Label Our Services for You
You put your firm's brand and company information into our bookkeeping software package. This lets you add bookkeeping into your client services. We provide the work instead of you having to hire or train more staff or, burden another employee or yourself. It's an economic growth solution with no downsides and big benefits.
There is no end to how you can imagine growing your business when you take advantage of our white label bookkeeping software and services.


The Sky's the Limit When it Comes to What Your Firm Can Offer
There are many ways to use Remote Books Online, starting with this first, obvious suggestion:
Give us your bookkeeping. We'll do it for you. You, better than anyone, know the burden of keeping books current and correct. When we handle it for you, it'll free you up to concentrate on tasks that really need your attention. You can relax knowing experts are handling your bookkeeping. Also, you'll know exactly what your clients are experiencing with this process when you offer it to them (see next)—and you'll all be satisfied. You can see what many of our long-time clients think with our thousands of five-star reviews.
Offer bookkeeping services to your current (and new) clients now that you have us to do it for you. This is the key to your expansion—offering a new service to existing and new clients. With your firm's name and brand on the software, you'll have the tools you need to pursue this new line.
Retain current customers:

Your clients will be glad you can do more for them. They'll appreciate not having to use as many vendors. You'll enjoy not having to worry about the state of their financial information as you may have in the past.

Get new customers.

Now that you have more services to offer, you're more likely to find additional clients in need of your services.

Discover what else you want to do.

Now that the structure and tools are in place, you can think strategically about where you want your firm to go next. Perhaps an additional location. Perhaps becoming a CFP (Certified Financial Planner). You'll have the time, energy, and resources to plan. And, with Remote Books Online, we're flexible so you can scale your business as you grow and adjust as your needs change.
It's Still Your Firm—it's Just Bigger, Better, and Faster With White Label Bookkeeping Solutions
Our affordable, flexible pricing to provide these solutions starts at $95 a month up to $399 a month, depending on your business needs, budget, and number of bank accounts. All plans include accounting software.
If you're ready to grow your firm beyond tax time, you're ready to talk to Remote Books Online. Contact us so we can schedule a time to learn more about your accounting firm and your goals. And, you can learn how we can help you grow your firm. We look forward to connecting very soon.

Here's What People Say About Our Online Bookkeeping Services
Giving our clients the financial support they need to succeed in their business is our only business.
Get Your First Month of Bookkeeping Services for FREE!